Email marketing is supposed to be one of the important channel of marketing- if it is done by an effective strategies. Why email marketing strategies are so important? Let's have a look on it:
Email marketing comprise different marketing strategies and business plan. Through email you advertise your product and services with best possible chances. It helps you to make profit and achieve your product goals. For effective strategies, must emphasize on:
Targeted customers to whom email need to send?
Customers benefits and preferences which they are looking for.
Effectiveness of your product and services for customers
Effective email marketing messages that will be useful for customers and company profit as well
Email marketing strategies help to achieve your business goals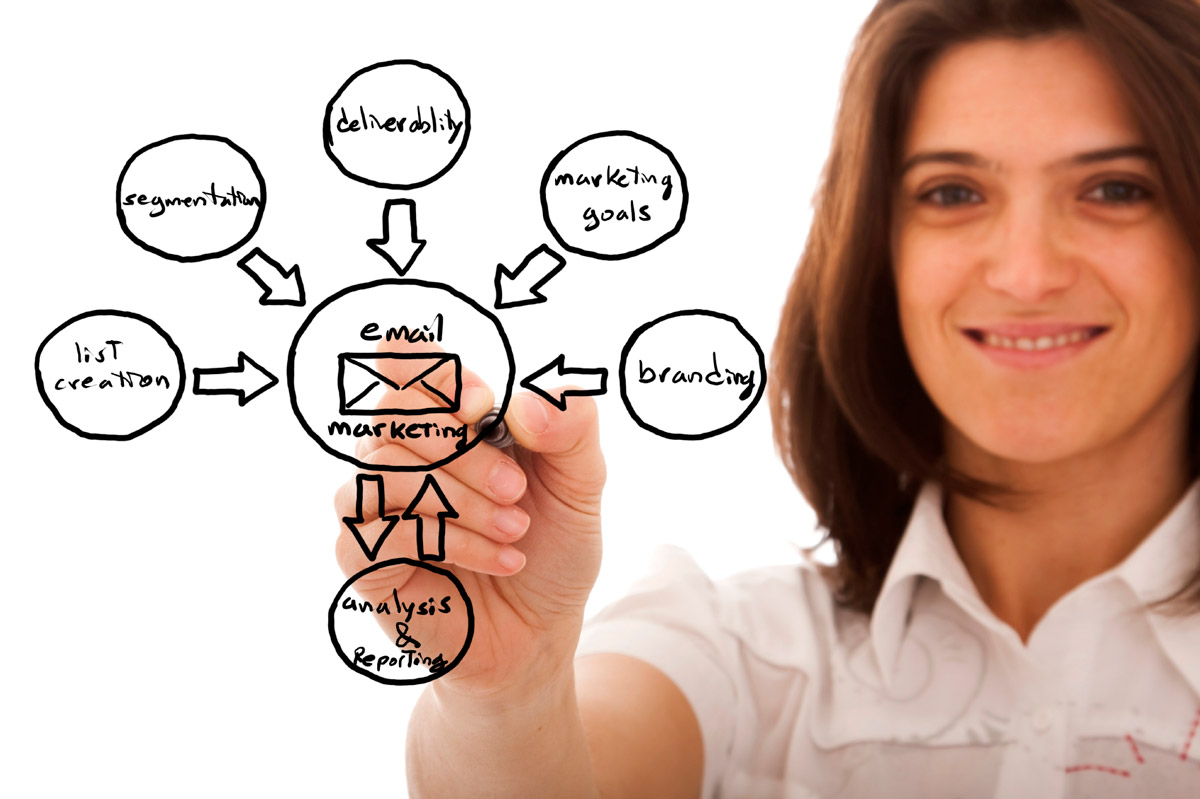 First make your business goals that you have to achieve through email marketing and then go for a following steps:
Email Marketing strategy: Which stages would you follow achieve specified goals
Tactics of email marketing: This is also part of strategy but in detail understanding to achieving business goals and ambitions
Strategies into actions: How these strategies come in to action – completion results of implemented strategies
Email marketing channel is an important thing to achieving all possible success .For measuring success you can take look on conversion rates, click through rates engagement of traffic on platform through email.
You can reach on a lot of people at once.
It's very simple channel to start and send email to targeted audiences.
Scale is easy to implemented you send email to one person or 100,000 messages is equal effort.
Risk is quite less in email marketing and cost is comparatively low on this strategy.
Here are most fundamental and essential elements keeping in mind while making email marketing strategies which will result in to best strategies
Top Email Marketing Strategies-2017
Time and Frequency
Timings:
Timings are one important element in email marketing strategies.When you send your campaign through email, You may reside on different time zone and large amount of your targeted audience on different time zone. So, you need to check on time, if it would send in day time on non-working time to targeted audiences so possibility is that it increases click-through-rate and open rate of emails.
Segmentation is key factor for sending email as divide the whole targeted audience to which messages should send and they receive your message in their convenient hour. It is not possible that you send one message globally to all audience and expect maximum reach, you should manage the time and targeted audience.
If it is confusion at which time messages should be send- you can divide it in three core slots, it will increase user engagement. Best time is in early morning when most of people reach at work.Second in mid-afternoon that is lunch time maximum people can read your email.Third is in evening when most of the targeted audiences at home. You need to have a check on audience lifestyle to reach them and if you have done an email campaign before through analytics and statistics you can find out which time is feasible for targeted audience to engage them.
Frequency
In addition to timing, frequency at which disseminate messages is another significant factor to reach the audience and have focus on how many email needs to send. More email has less effect on audience it loses its importance people not even bother to open it. If your emails are short doesn't mean you send a new email each day. Make it appropriate email and send it twice a week to reach the inbox of audience. Well, moreover its depend on industry and brand image at which frequency email need to send.
Subject Line
An impressive subject line is make or break thing for your email impression. It is first entity through which you can attract your recipients and make your brand image in 50 characters. Subject line has positive impact on recipient's mind and he open message- creative and relevant about the brand is ideal subject line. Relevancy is very important sometimes subject line is perfect to read and engage the recipients but when it comes to detail message it is not relevant-this is very bad image of email. It causes trust issue with your customers and targeted audience.
Feedback for subject line from colleagues can make game up- it boosts your click through rates, A/B testing is another way to improve your subject line, test one subject line to one segment list and second to another list, find out which works better. Analysis is much needed to find which strategy works better. So from all this we conclude that subject line should be:
Short and positive
Ask a question
Informative and interesting
Sense of urgency
A/B testing
Personalize it
Avoid Spam folder
Content- Visibility and Accuracy
Images are very important for any marketing strategy as there is saying "Images speaks louder than words"- same as for email marketing strategy if there are more visuals than copy it will attract more customers to read email. As a user, they are very much interested in reading text so images make game up in marketing. If there is a lot of stuff better is to make a switch link in email which direct land on your website where they can read all accurate content.
Important thing that need to be notice in email marketing strategy is images should be load properly- because if takes time chances are recipient may delete your messages. Recently new trend is introduced of GIF-many companies send GIF in their email for marketing of their products.You need to test all platform for all GIF, possibility is platform not GIF optimized and load one front image still it would convey message. This effort is very important for effective user experience and engage users more.
Optimization for different devices
A few times ago users only check their email from desktop but now trends are different people use their smart phones, tablets and many other devices. So, you have to make email design that is feasible for all devices and person can view easily. Responsive and user friendly design is essential. Moreover, you can check on which devices most of your audience so set up your email functionality and design according to that platform.
In today's world, many users are on mobile phones and used to link their email to their smarts phones. Litmus is great tool through which you can find out feasible visibility for all devices before launching a campaign.
 Mobile optimized email is necessary to touch screen, using thumb not mouse, for zoom in and zoom out.
Make it in one column so it would clearly appear on mobile phone.
Font size is important that users can read easily on mobile phone.
Personalization
The content you send to users must be accurate and relevant to your brand. Addressing with individuals doesn't means that send email separately.It means send email with customer name by using customer data in your data bases. Address customers by their previous experience it will engage more customers. Amazon is best example of personalization. They always address their customer by writing first or last name and engage them with their last purchase experience.
70% brands do not utilize personalization feature but this is very important feature for stand out in email marketing strategies. Email subject line that is compromise of recipient's first name more chances is there that they will open your email.