Apple revealed its new Apple smartwatch series 3 on 12 sept 2017 with new iPhones. It is first internet connected version of the watch, with Apple Watch Series 3 you can use your mobile apps as well, even iPhone is far away. It has same shape as of series 2 but still major changes are embedded. Let have a look on specs, price, features and released date.
Design
It is already mentioned that overall design is same as before. It is also water resistant up to 50m, Series 2 is also water resistant to this level). Apple mentioned some other option updated features which are included this time:
Better aesthetic options
New colour options
Finishes and straps
Digital crown is now end up on a red inflection in cellular models, which is more modified and smart. But GPS-only model still have the same case as before. Colors are also modified like, Nike plus colors and new Hermes watch face styles and bands.
This watch has gold aluminium finish with silver and black stainless steel. It has also new sport loop that is quite stretchy and light.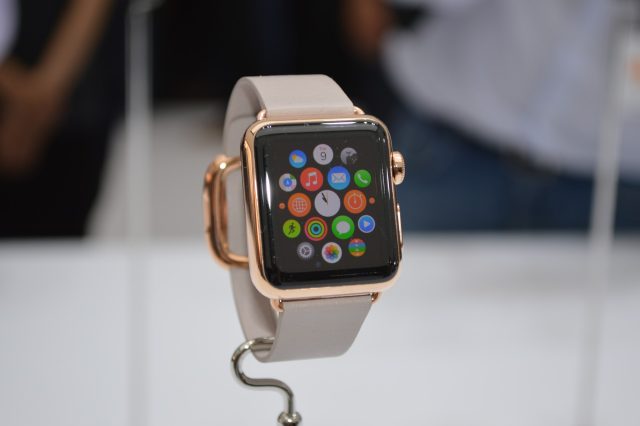 To conclude  all its design, Apple has added the classic (but quite expensive) white ceramic watch along with a new dark grey ceramic model. This is paired up with new two-tone Sport Band
Cellular connectivity
This is one very amazing feature that is added in watch – internet connectivity. Apple has embedded a powerful hungry LTE radio and antenna in to device by keeping the size same. You can get data connection on your watch even if you leave your iPhone at home because of this LTE and UMTS feature.
Apple announce following apps and cases you can use from this watch:
Running: you can run with this watch as far as you want, It will still contactable
Calls: You would be able to receive your calls with this watch; Number is the same as of your iPhone.
iMessage
Siri- You can use any where plus siri on Apple watch series 3 can speak out loud ans its more faster than Apple watch series 2.
Maps
Wechat
Find My friend-locate your friends according to location of watch
Apple Music, you can play more 40 million songs in this watch
Now question arise about the sim and antenna where these are embedded, sim is not card sim but electronic sim which is connected to watch through your iPhone. Display acts as a antenna both receiving and transmitting.
In UK you are not allowed to use one sim number with two devices but USA you can use that , this issue still not announced how Apple will manage to work this out in UK.
More Specifications
There are still some specifications that need to describe:
S3 dual-core processor
This watch has new S3 processor offers 70 percent faster performance than the last generation – apps opening quicker, quite smoother graphics. This made Siri faster to use.
W2 wireless chip
It has 85 percent faster WiFi, and 50 percent more power-efficient for WiFi and Bluetooth.
Battery life
One of the biggest worries about adding cellular connectivity to a smartwatch is battery life. But no need to worry about Apple Watch Series 3 have battery life power to utilize all-day, which the company specifies as 18 hours.
Barometric altimeter
This is a new introduction for the Apple Watch, and enables the device to offer distance climbed (flights of stairs inside, elevation gained outside) in workouts.
Dimensions
As mentioned above Apple Series 3 has same size as the Series 2, which is impressive given the additional component that it contains – but then conceded that the back crystal is 0.25mm thicker. But that shouldn't be noticeable.
Price
Here is the price range of Apple Watch Series 3
UK prices:
Apple Watch Series 3 (GPS, no cellular): from £329
Apple Watch Series 3 (GPS + cellular): from £399
US prices:
Apple Watch Series 3 (no cellular): from $329
Apple Watch Series 3 (cellular): from $399
Pre-orders has started on September 15, and the Watch will start shipping on September 22.